Phnom Penh Condo for sale
A condominium is, in general, comparable to an apartment.
Both condos and apartments have separate living, sleeping, cooking, and bathing areas.
The fundamental difference between these two types of living quarters is that a condominium is typically a unit in a structure that is owned by more than one person.
A strata title is used to denote individual ownership of each unit, whereas a unit owners' association is responsible for shared ownership of common areas and administration of such areas.
A structure that is composed of several individual flats, each of which is owned by a different person, is referred to as a condominium building.
The common areas surrounding the individual units are owned jointly by all residents.
Common areas include passageways and walkways, launder areas, and shared utilities like generators and security systems.
In addition, condominiums and apartment buildings may include amenities such as swimming pools, fitness centers, multifunctional halls, and elevators in their structures.
Hallways and rooms that have the potential to be used for a variety of functions are two other examples of common areas.
Condominium Characteristics
A condominium is a type of real estate that is comprised of individual units in addition to shared facilities and property. The walls or boundaries of the unit are the extent of ownership. 
The developer gives the unit owner a copy of the Strata title, which contains a description of the space allocation in the building.
The walls that surround the condo will be a part of the property that you own. 
The one-of-a-kind owner has the right to make personalized adjustments that will not have an effect on the communal areas. 
Everything that lies outside the boundary lines is considered a designated common area owned by the building's collective owners.
Multiple Uses of Condominiums
Mixed-use real estate is a term that can be used to certain condominium developments. 
Retail establishments are often located on the bottom floor of these types of buildings, while residential areas are located on higher floors. They all use the same amenities, including the fitness center, swimming pool, lobby, reception desk, and building security.
Condominiums can also be used for a variety of other purposes, including but not limited to the following: offices, short-term lodgings such as AirBnB, hotel rooms, bank offices, employee dorms, retail shops, and restaurants.
Condo unit owners typically rent out their apartments to tenants on a monthly or yearly basis through the use of leases or rental agreements. It is currently being used as residential space, despite the fact that it is still considered to be a condo unit.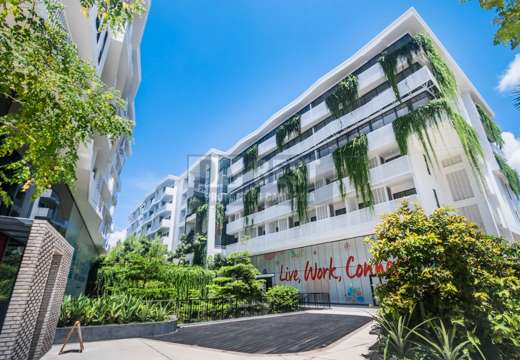 Siem Reap
Bed:

1

Bath:

1

Condo for sale
Details
2 weeks ago
Siem Reap
Beds:

3

Baths:

3

Apartment for Sale, Condo for sale
Details
2 weeks ago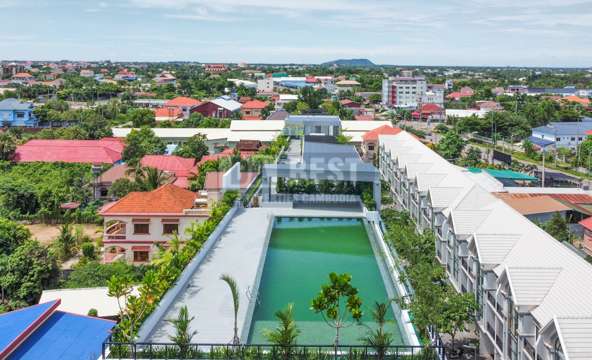 Siem Reap
Beds:

3

Baths:

3

Condo for sale
Details
1 month ago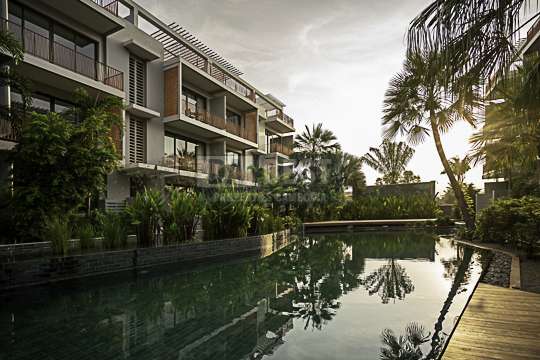 Siem Reap
Beds:

5

Baths:

5

Condo for sale, Condo investment projects and new developments, Residential
Details
2 months ago
Investing in the condominium market of Phnom Penh: Returns on rent that are guaranteed
The term "Guaranteed Rental Returns" (GRR) is offered by several developers of condominiums to prospective owners. 
This means that once all payments have been made and the condo unit has been handed over to the buyer, the developer promises to repay a certain percentage of the purchase value over a specified amount of time, effectively guaranteeing a rental income on the property. 
Once all payments have been made, the buyer will receive the condo unit. GRR has won the favor of a significant number of investors from other countries.
In most cases, a condominium development must have a ratio of local ownership of at least 30% to foreign ownership of at least 70% of the total number of units. Only apartments on the first floor and higher are available for sale to international purchasers.
Condominiums can be purchased legally by overseas investors in Phnom Penh.
If you are a foreign investor looking for a condo for sale in Phnom Penh, it is important to conduct the necessary due diligence on a developer. 
Always check to see if the developer has the necessary licenses and is eligible to issue all buyers with a strata title, which will register the buyer as the legal owner of the property.
Apartments vs. Condominiums
The terms "apartments" and "condos" are frequently used interchangeably, and it can be challenging to differentiate between the two.
Laws and regulations and organizational structures of ownership are the primary determinants of their difference.
A single individual owns many apartment buildings and apartment complexes, and each unit is rented out to a different renter.
Suppose the developer or owner decides to preserve ownership and only lease or rent the units to individual tenants. In that case, their expertise can transform a condominium sold to individual owners into an apartment building.
The structure of a condominium is comparable to that of an apartment; however, a condominium can be owned outright through the use of a Strata title.
When compared to the quality of building materials and furnishings used in the construction of apartments, the quality of building materials and furnishings used in the construction of condominiums is often of a higher standard.
The purchase and rental prices of a condominium are often higher than those of an apartment.
Since the Strata Titles Act was enacted in 2010, condominiums are available for purchase in virtually every significant city in Cambodia, including the nation's capital, Phnom Penh, as well as at Sihanoukville and Siem Reap, which are also significant tourist attractions.
The majority of these structures are now able to be recognized to be part of the Titles Act development.
You would agree that most of the country's economic activities are in and around the capital city of Phnom Penh. The city has a greater demand for this category of real estate, and as a direct result, there has been a consistent flow of condominium structures developed during the course of the last decade.
These residences are perfect for long-term expats who have found employment in the host nation and permanent foreign residents who have made the decision to make the host nation their permanent home.
In Sihanoukville you would see condos as mixed-use buildings, which often feature commercial spaces on the ground floor, such as stores, restaurants, and bars, and residential spaces on the upper floors of the structure.
In addition, Sihanoukville is home to a sizeable number of condominiums, the most majority of which are created with the intention of catering to the local Chinese population.
Siem Reap is steadily gaining ground in its pursuit to catch up. Still, the opening of the first condominium structures in the city was not expected to occur before 2020 or later.
The Advantages of Making Your Home in a Condominium
The owners of a condominium unit benefit from having adequate space to live in comfort, high-quality furnishings, and the added ease of not having to worry about maintaining their property's security.
The additional amenities that are provided by condominium complexes are an additional benefit of living in these types of communities. Owners are not responsible for any additional expenditures associated with swimming pools or gym memberships.
Laundry facilities, concierge services, cleaning services, internet access, parking spots, and security guards are some of the additional amenities that may be offered in some buildings.
On the other hand, the costs that owners are responsible for paying for administration might include these conveniences.
We have apartments and condominiums available for rent in Phnom Penh, Sihanoukville, and Siem Reap in our portfolio. We work closely with the builders of the properties that we provide, so that we can provide you with the most up-to-date information possible.
Information regarding the qualities of the property, such as the furnishings and the amenities that are offered, will be included in the descriptions of condominiums that are both for rent and sale.
Your specific requirements regarding cost, the number of rooms, the standard of the furnishings, and the availability of additional amenities can be accommodated by the listing that we provide.
Find the perfect condo that is currently available for purchase in Phnom Penh.
The condominium market in the nation's capital is a good place for foreigners to hunt for quality Cambodian real estate that is now available for purchase.
The past several years have seen a surge in the number of brand new developments.
Just to give you a considerable example: as of the second quarter of the year 2020, there were around 21,000 condo apartments in Phnom Penh that had been finished.
Condos in Phnom Penh are available in a wide range of price points, sizes, and architectural motifs.
They are often classified as being of a high-end, mid-tier, or inexpensive kind depending on a range of variables including location, price, facilities, design, build quality, accessibility, and exclusivity.
The remaining one-third is considered to be of higher quality than the other two-thirds combined.
If you are looking for an affordable apartment for sale in the central area of Phnom Penh, you may be disappointed to learn that there are very few "budget" condo options available.
Condominiums are the best real estate investment choice available to non-locals in the Phnom Penh property market who are looking to make a purchase.
Condominiums are the only sort of property that foreigners and expatriates are legally permitted to own in Phnom Penh, so anyone seeking for an apartment for sale in the city should look into purchasing one of those.
Condos built after 2009 are eligible for sale to non-citizens, however the building in question must be legally registered as a strata property for the transaction to go through.
Before you go ahead and buy the condo, you ought to give this some additional consideration.
The vast majority are available for purchase off-plan. On the other hand, there are also units available for resale.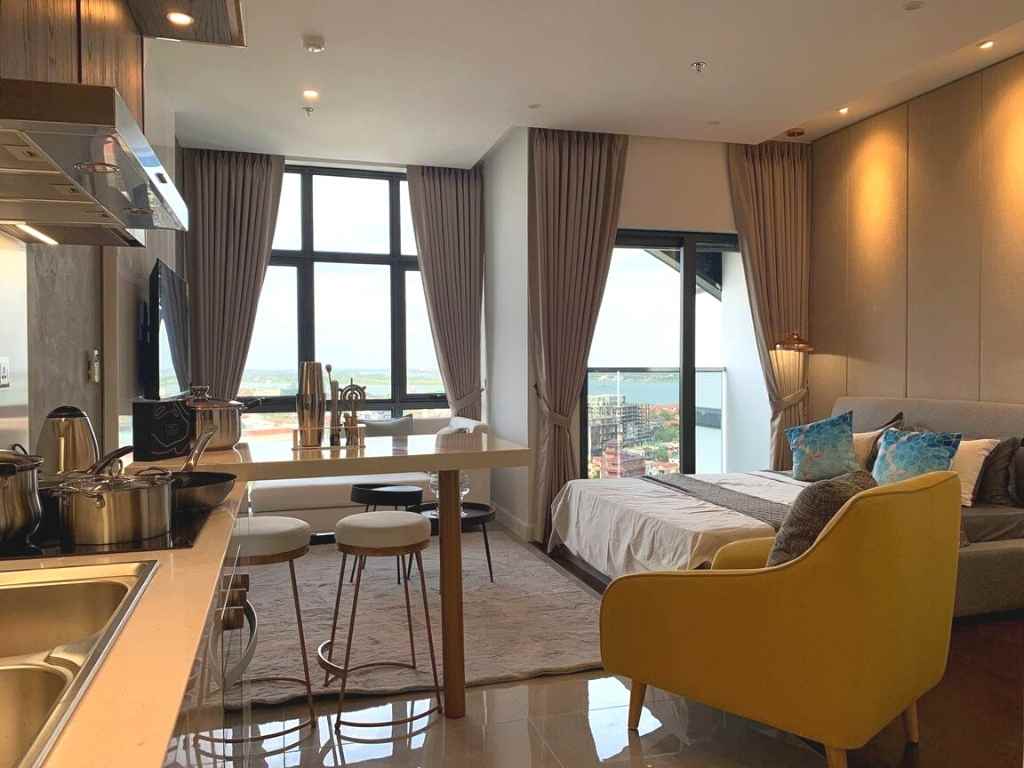 Phnom Penh Condo for Sale Before Construction Begins
If you buy off-plan, one of the benefits is that you get to choose your own apartments as well as the furniture and fittings that go within them.
If you move swiftly enough throughout the planning phase, you could even be able to score a deal.
Even if the apartment is not rented out, prospective investors can be enticed to buy one of the condos for sale in Phnom Penh by the promise of rental yields of approximately 7% per annum for a period of two years.
There are a number of condos in Phnom Penh that can be purchased for as little as $200 a month and require no or a very small down payment. Prospective buyers can take advantage of highly appealing financing options.
One of the drawbacks of purchasing a condo in Phnom Penh before it is done construction is that you will have to wait until it is finished before you can move in.
Because of this, there is a chance that the condo won't be finished on time, or even worse, that it won't be finished at all, which is an incredibly remote possibility.
We strongly recommend that you do your research and purchase your condo from a reputable developer with a proven track record.
This is especially important given the possibility that your neighbors will not pay their annual fees, which will result in the common areas falling into disrepair due to a lack of maintenance.
Where in Phnom Penh is a Condominium Available for sale?
There are approximately one-third of the condominiums in Phnom Penh located in the Chamkarmon neighborhood, with the majority of the remaining condos located in Sen Sok, 7 Makara, Chroy Changva, Boeng Keng Kang, and Toul Kork.
Condos can also be found along the riverfront or in the Daun Penh neighborhood of Phnom Penh.
Sen Sok is located to the north of Phnom Penh, close to Aeon Mall 2, and Chbar Ampov and Chak Angre are located to the south of Phnom Penh, close to Aeon Mall 3. If you are interested in purchasing a condo in Phnom Penh, you might investigate these up-and-coming areas.