Gateway to Comfort: Navigating Long-Term Rentals in Siem Reap
Step into the magic and wonder of Cambodia with our comprehensive guide to long-term rentals in the charming city of Siem Reap. Whether you're an ambitious digital nomad, a seasoned expat, or someone seeking an extended cultural immersion, we have the inside scoop for you.
Brace yourself as we walk through the mosaic of options available, delivering unrivaled value, unparalleled variety, and the promise of a seamless transition. Together, we'll unlock the doors to your dream dwelling in Siem Reap's captivating landscape.
Start your journey with us and turn the key to your ideal apartment in Siem Reap.
Key Takeaway:
Renting an apartment in Siem Reap offers numerous benefits, including affordable prices, modern amenities, and flexible housing options. Whether you're on a budget or looking for luxurious accommodations, Siem Reap has something to offer.
Downtown Siem Reap offers modern apartments with easy access to restaurants, shops, and nightlife. Quieter areas like Slor Kram, Chreav, Kouk Chak, and Sra Ngae offer a more peaceful setting with traditional Khmer buildings and local apartment options.
The district of Slor Kram is a popular area for long-term rentals, with options ranging from traditional Khmer villas to local apartment buildings. This district offers a more authentic experience for those looking to immerse themselves in the local culture.
Overview of Siem Reap Apartments for Rent
Siem Reap is a popular tourist destination, attracting millions of visitors every year. If you're planning to extend your stay and looking for an affordable and comfortable living space, then apartments for rent in Siem Reap are a great option.
In this section, we'll provide you with an overview of the apartments for rent in Siem Reap, and dive into the benefits of choosing an apartment as your long-term rental.
Benefits of Renting an Apartment in Siem Reap
Siem Reap is the perfect place to rent an apartment! There are many advantages to renting instead of buying a house or staying in a hotel. You have more choices when it comes to location, size, and amenities. Plus, some apartments come furnished, making the move-in process easier. Renting also comes with perks like security personnel, maintenance services, and parking facilities.
The suburbs of Siem Reap offer a wide variety of rental properties. You can find anything from small studios to large multi-bedroom homes. There are various residential locations to fit any budget or lifestyle. If you want to be away from the city center, there are places like Slor Kram, Chreav Kouk Chak, or Sra Ngae. If you'd rather live in the city, Downtown Siem Reap boasts modern apartments with stunning designs.
Slor Kram district is especially popular because of its Khmer villas and beautiful scenery like bright rice fields and lush vegetation. Prices here are lower than those downtown.
Renting an apartment can make your stay in Siem Reap even better. Take Frank, for example – he rents an airy apartment next door with calming views, just $600 a month with wifi included. It's only 10 minutes away from the night market.
In conclusion, renting an apartment in Siem Reap is a great way to enjoy the city without breaking the bank.
Browse our Siem Reap apartments for rent listings and find the best location for your lifestyle: Apartment For Rent Siem Reap
Housing Options for Every Budget and Lifestyle
Looking for the perfect housing option that suits your budget and lifestyle? This section provides an insightful overview of modern apartment options that are available for long-term rentals in downtown Siem Reap and quieter areas such as Slor Kram, Chreav, Kouk Chak, and Sra Ngae. With a variety of options to choose from, you are sure to find the perfect home that meets your needs.
Modern Apartments in Downtown Siem Reap
Siem Reap boasts modern apartments in the heart of its lively downtown area. These apartments are ultra-convenient, close to markets, restaurants, and tourist sites. Facilities include swimming pools, fitness centers, and 24-hour security.
Apartments come in various sizes, from one-bedroom units for singles or couples, to two-bedroom apartments and townhouses for larger families. Rental fees vary depending on size, furniture, and lease length.
Urbanites will love Siem Reap's modern apartments. With a vibrant community and plenty of entertainment nearby, these apartments offer a high-quality lifestyle. Plus, the 24-hour security ensures peace of mind. Renting a modern apartment in downtown Siem Reap is a great opportunity!
For a more peaceful experience, check out rentals in Slor Kram, Chreav, Kouk Chak, and Sra Ngae.
Quieter Areas like Slor Kram, Chreav, Kouk Chak, and Sra Ngae
Siem Reap region is full of quieter places: Slor Kram, Chreav, Kouk Chak and Sra Ngae. These spots offer a more chilled lifestyle, compared to the hectic downtown. Reference data states that they are ideal for people who want to escape the city's noise and crowds, but still have access to facilities.
Different housing types are on offer in these calm Siem Reap neighborhoods – for all budgets and lifestyles. For example, Slor Kram has Khmer villas and local apartment buildings that are great for long-term rentals. Chreav has luxurious and affordable properties. Sra Ngae has recently been developed and has plenty of rental homes.
Residents can experience a more leisurely tempo of life without lacking convenience. Amenities and local markets, including shops, eateries and pharmacies with expat options, are just nearby.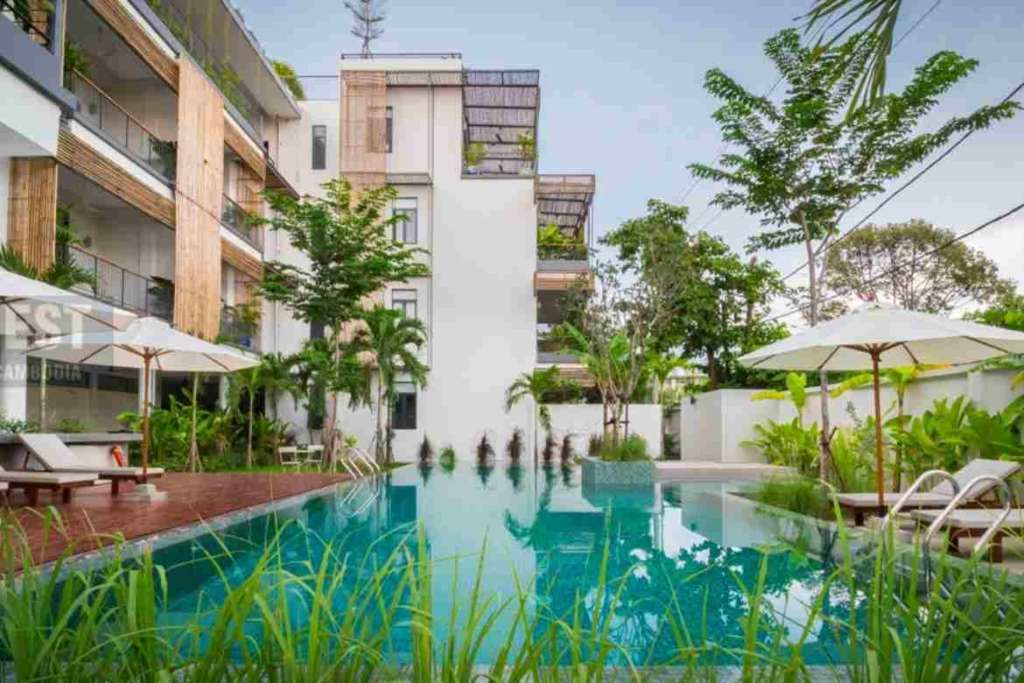 Popular Districts for Long-term Rentals
Looking for a long-term rental in Siem Reap? Let's take a look at some popular districts, starting with Slor Kram, known for its Khmer villas and local apartment buildings. Get the inside scoop on what this district has to offer for those looking for apartments for rent.
Slor Kram District – Khmer Villas and Local Apartment Buildings
Slor Kram District in Siem Reap is home to a variety of Khmer villas and local apartment buildings. This area offers tenants the chance to experience life in a traditional Khmer village, while still being close to the city center. Amenities such as markets, schools, and restaurants are easily accessible, creating convenience for tenants. Slor Kram is known for its peacefulness and tranquility, making it a great option for those on a lower budget or who want a quieter lifestyle.
Moreover, Slor Kram is more affordable than other popular districts in Siem Reap. For those who want to immerse themselves in Khmer culture or escape downtown Siem Reap, this district provides unique housing options. So, if you're looking for long-term rentals, Slor Kram is an excellent choice.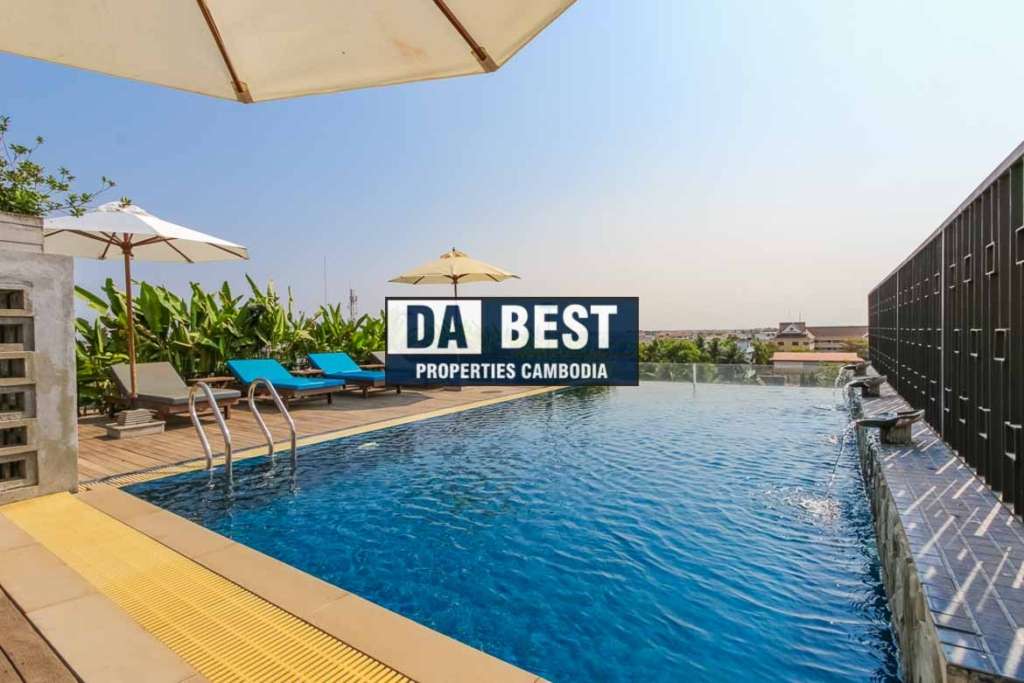 Options and Prices for Long-Term Rentals in Siem Reap
Looking to settle down in Siem Reap for a more extended period? This section lays out the options and prices for long-term rentals. We've got you covered with a breakdown of Siem Reap's most popular suburbs, bedroom and bathroom counts, parking and orientation options, and average floor areas for residential properties in the city.
Siem Reap's Most Popular Suburbs for Rentals
Siem Reap has many great suburbs for long-term rentals. Slor Kram district is an ideal option for those on a budget – offering Khmer villas and local apartment buildings. Other peaceful neighborhoods include Chreav, Kouk Chak, and Sra Ngae. Each suburb provides easy access to amenities.
For those seeking luxury living, Siem Reap has modern apartments in downtown areas. They have top-notch facilities and offer features like swimming pools, fitness centers, and shopping malls.
These suburbs are close to amazing tourist attractions and natural sites. Explore temples like Angkor Wat or take excursions to Tonle Sap Lake or Phnom Kulen National Park. Most rental properties come with parking spaces or garages depending on the number of rooms.
Siem Reap has something for everyone. Whether you're looking for a peaceful suburb or a modern downtown apartment, you'll find something to make this city your new home.
Bedroom and Bathroom Counts for Rental Properties
In Siem Reap, rental properties have multiple options for bedroom and bathroom counts. Pick a rental that fits your living needs, but having an extra room is great for guests or storage. Check out the table below to see the counts for different types of rental properties:
| Rental Property Type | Number of Bedrooms | Number of Bathrooms |
| --- | --- | --- |
| Studio Apartment | 1 | 1 |
| 1 Bedroom Apartment | 1 | 1 |
| 2 Bedroom Apartment | 2 | 2 |
| 3 Bedroom Apartment | 3 | 3 |
Plus, sometimes rentals offer an extra room for a study or storage. It's smart to check with the landlord or real estate agent to find out the exact number of rooms in the property.
Pro Tip: Parking in Siem Reap can be a nightmare, but our guide will help you find a spot without having to park on the sidewalk.
Parking and Orientation of Rental Properties
When you're searching for a rental property, there are several things to think about. Parking and the orientation of the apartment are key. Many properties have designated parking spaces or public parking nearby. Check availability and cost before making the final decision.
The orientation of the apartment can affect the amount of sunlight and ventilation it gets. Check which direction the windows face. Plus, take note of anything that might block the sunlight or wind flow.
Accessibility is important too. Some apartments may have limited access due to narrow streets or busy areas. Make sure you can park your vehicle without causing trouble for other residents or road users.
By considering these factors, you can guarantee a comfortable stay with easy access to all the necessary facilities.
Average Floor Area for Residential Properties in Siem Reap
Residential properties in Siem Reap offer different sizes. A table shows the different housing options, bedroom counts, and their average floor area.
Studio apartments are the smallest. They offer around 32 square meters of living space. Villas with 4 bedrooms provide 250 square meters of living space. This is the median range for each housing type.
Location can impact the size. There may be variations. Communal amenities, like pools or gardens, can increase the floor area per unit. In the suburbs, houses have slightly larger floor areas than those in the city center.
Siem Reap's Tourist Attractions and Natural Sites
Siem Reap, in Cambodia, is a destination for all! It welcomes tourists with its plethora of attractions. Angkor Archaeological Park is a must-visit for history buffs, and is home to iconic ancient temples, including Angkor Wat, Angkor Thom, and Ta Prohm.
The natural beauty of Siem Reap can be explored at Phnom Kulen National Park. Here, visitors can hike, swim in waterfalls, and enjoy other outdoor activities. The floating villages of the city offer a unique cultural experience with their stilted houses and vibrant markets. Plus, witness traditional dance forms at the Phare Cambodian Circus.
Apart from the main tourist attractions, Siem Reap has lesser-known sites, too! The Landmine Museum and Relief Center remembers the victims of landmines in Cambodia. Tonle Sap Lake, one of Asia's largest freshwater lakes, displays the city's biodiversity. And, at McDermott Gallery, admire contemporary art from local and international artists.
Siem Reap is a mesmerizing blend of culture, history, and nature. So, if you're planning a trip to Cambodia, add it to your bucket list!
Conclusion: Finding the Best Apartment for Rent in Siem Reap
Siem Reap is perfect for long-term rentals! Its attractive landscapes and old temples make it a popular tourist destination. To find the perfect apartment, research and evaluate essential factors.
Location is key. Apartments close to the city center or tourist attractions can be pricey. If you love peace and quiet, go for one further away.
Size is another essential factor. Select one that fits your needs. If you need a roomy apartment, be prepared to pay more.
Amenities must also be considered when selecting a Siem Reap rental. Hot water, air conditioning, and security are necessary for a comfortable stay. If you want extras like parking spots, swimming pools, and gyms, expect higher rent.
Five Facts About Apartments for Rent Siem Reap Long Term Rentals:
✅ Siem Reap apartments are cheaper than those in Phnom Penh and offer a relaxed countryside lifestyle.
✅ Siem Reap is the tourism capital of Cambodia and home to Angkor Wat Archaeological Park, a UNESCO World Heritage site.
✅ Siem Reap is part of the Tonle Sap Biosphere Reserve and has many other historical and natural sites.
✅ There are currently 741 residential properties available for rent in Siem Reap, with prices ranging from $199,000 to $377,774. (Source: realestate.com.kh)
✅ The most popular suburbs in Siem Reap for long term rentals are Siem Reap and Prasat Bakong, with a median price of $280,000 for properties with 2 bedrooms and 1 to 5 bathrooms.